PG10-M10 10 mm small plastic planetary gearhead dc electric motor
PG10-M10, 10 mm plastic planetary gearhead dc motor | FONEACC MOTOR, custom specs service available.
motor case diameter: 10 mm
motor case shape: l
brush type: carbon brush/metal brush
motor type: miniature gearbox permanent magnet dc electric motor
gearbox type: plastic planetary gearhead reducer
driveshaft shape: D, O, knurling, screw thread, Customization
bearing type: bushing/ball bearing
manufacturer: FONEACC MOTOR
Description
The datasheet of PG10-M10 is as below: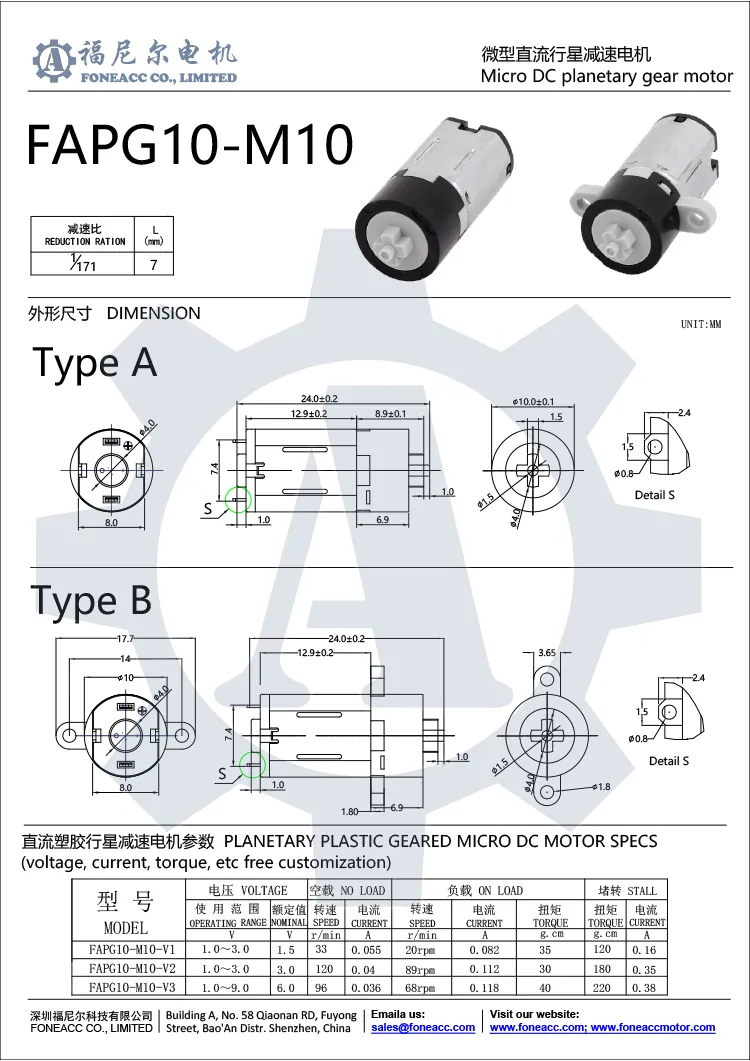 Notice: Data in this typical specification sheet are for certain customers. The power voltage, rated torque, speed, current, power, and driveshaft extension can be customized to meet customer-specific requirements.
Tables for clear view:
data table of micro planetary gearhead dc electric motor PG10-M10 specs
Model
Rated Voltage
No Load
RATED LOAD
Stall
Speed
Current
Speed
Current
Torque
Output
Efficiency
Torque
Current
VDC
RPM
A
RPM
A
gf.cm
W
%
gf.cm
A
PG10-M10-V1
1.5
33
0.055
20
0.082
35
0.072
5.85
120
0.16
PG10-M10-V2
3.0
120
0.04
89
0.112
30
0.028
8.16
180
0.35
PG10-M10-V3
6.0
96
0.036
68
0.118
40
0.028
3.95
220
0.38
The whole small planetary gearhead dc electric motor family is as below: