Φ 36 mm inrunner bldc motor with driver
FABL3650, 36 mm small inner rotor brushless dc electric motor
| - Shell Stator Size : Φ36* L 50 mm;
| - Rated Output Power: 2W - 40W;
| - Rated Voltage: DC 6V - 24V;
| - Rated Torque: up to 450 gf-cm;
| - Shaft : Φ3.175mm(or 4.0mm), length custom;
| - Driver: built-in driver with 3 hall sensors
| - MOQ: 500 pc
motor case diameter: 36 mm
motor case length: 50 mm
motor case shape: round motor shell
brush type: brushless
motor type: single bldc motor
bearing type: bushing/ball bearing
manufacturer: FONEACC MOTOR
Description
FABL3650 Φ 36 mm Small Inner Rotor Brushless DC electric motor
| | | |
| --- | --- | --- |
| FABL3650 | Output Power: 5W~40W | Weight: 180g (Approx.) |
Model: FABL3650, Size: Φ36.0 mm * 50.0 mm or diameter Φ 1.42 inch * 1.97 inch,
Key features: Built-in driver(built-in driver controller with hall sensor), PWM pulse wide speed range, Clockwise/counter-clockwise rotation, FG speed feedback signal, Low EMC, Low noise, Long life: 2000~20000hrs, Over-current protection, Over-voltage protection, Under-voltage protection.
---
The datasheet of FABL3650 is as below: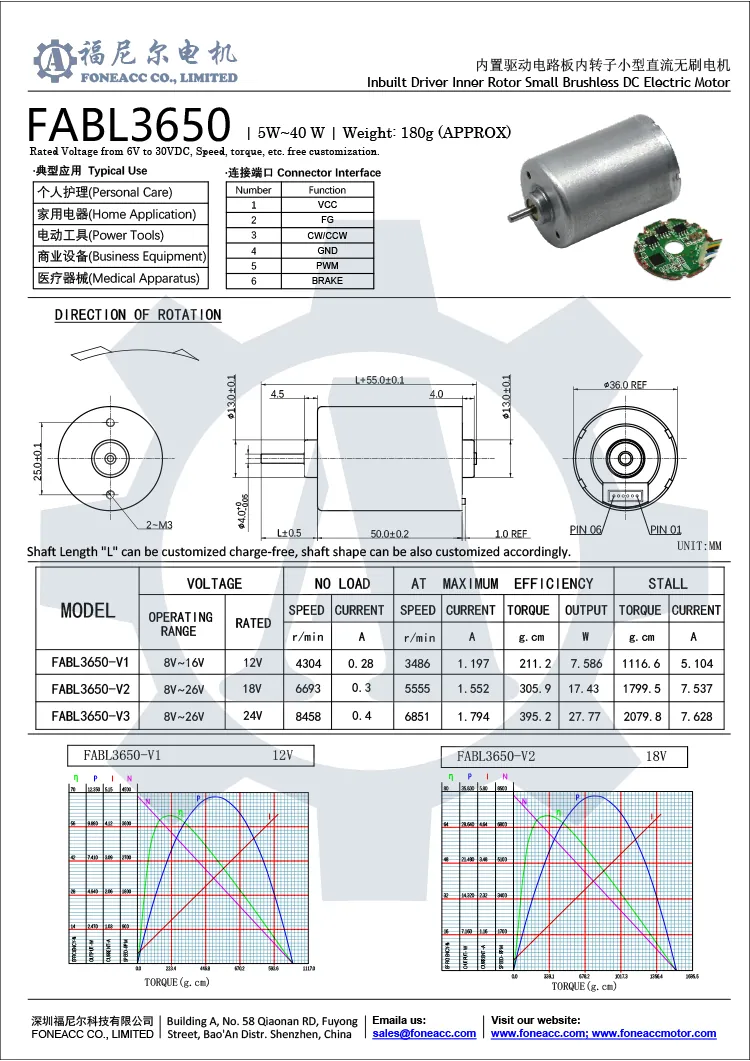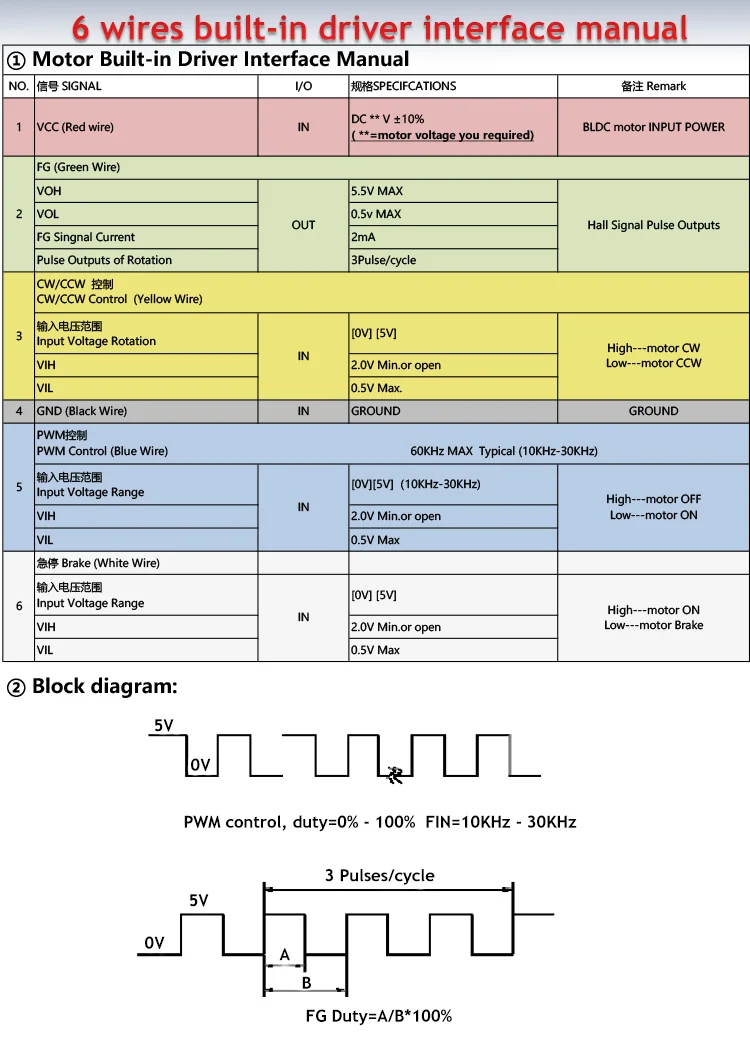 Characteristics
: CW & CCW, Signal function available, Locked rotor protection, Stepless speed regulation, Low noise, Low EMI, Long life 2000-20000hrs
Notice: Data in this typical specification sheet are for other certain customers. Voltage, rated torque, speed, current, power, and shaft extension feature & dimension can be changed to meet the customer-specific requirements.
A clear view of the small bldc motor data table:
FABL3650 36 mm small brushless dc electric motor data table
Model

FABL3650-S01

FABL3650-S02

FABL3650-S03

Voltage

(V)

Operate

Range

8~26V
8~26V
8~26V
Rated
12V
24V
24V

No

Load

Speed

(rpm)

5300
13800
4327

Current

(A)

0.46
0.32
0.18

Rated

Load

Torque

(mNm)

23.5
30.0
45.0

Torque

(g.cm)

239.8
306.12
459.18

Speed

(rpm)

4600
11360
3714

Current

(A)

1.53
1.99
1.01

Output

P. (W)

11.35
35.69
17.49
Stall

Torque

(mNm)

77.8
103.7
316.9

Torque

(g.cm)

793.8
1058.1
3232.6

Current

(A)

2.5
3
2.5
---
The whole inner rotor brushless dc motor with a built-in driver family is as below:
Brushless DC Motor Typical Application

Home Application: White Goods, Small Appliance, Fanner, Electric Curtain, Sweeping robot, electric lock, electrical curtain, hand blenders, mixers, coffee machines,
Medical Apparatus: Medical Pump, Blood Pressure Meter, Surgery Tools, Medical Stirrer, centrifugal machine
Industry Equipment: Electric Valve, Portable Screwdriver, Air Pump, Water Pump, Vacuum Pump, CCTV camera, grinders, polishers, trimmers, peristaltic pump,
Business Equipment: Printer, Copier, Projector, Scanner, Cash Register, ATM, vending machines, amusement machine,
Personal Care: Hair Dryer, Electric Shaver, Massager
Smart home, automotive, communications equipment, intelligent security, electric kitchen equipment, machinery and electronics, and other high-end transmission structures
*** Experienced manufacturer ***
We have more than 15 years of experience in producing and exporting dc gear motors to customers all over the world.

*** Motor custom ***
We accept OEM or ODM orders.

*** Samples processing ***
We have a sample workshop specialized in processing samples.
The lead time of samples is usually about 7days, some hot-selling models are about 15 days.

*** Capability ***
Our monthly capacity is more than 200000pcs.
We have many R&D engineers for professional advice and solutions.

*** Fast delivery ***
According to different quantities and DC motor/gear motor models, 15 to 40 days fast delivery time,
even during the COVID19 pandemic, we have a 99% on-time delivery rate.

*** Worry-free quality ***
Our products are widely satisfied among customers all over the world with reasonable price and good quality.
Our warranty period is one year. And our comprehensive non-performing rate is less than 1‰. For these defective dc motors, we will provide replenishment in the next batch of orders.
Frequently asked questions and answers:
Q: 1. What dc motor/gear motor do you provide?
A: Full range of small gearbox dc motor, including spur gearhead dc motor, worm gearbox electric motor, and planetary gear reducer electric motor; diameters from 6 mm, 8 mm, 10 mm, 12 mm, 13 mm, 16 mm, 20 mm, 22 mm, 24 mm, 28 mm, 32 mm, 36 mm, 37 mm, 42 mm, 45 mm, 57 mm (from 0.24 inch to 2.244 inches); output speed 5 rpm to 3000 rpm; gear reduction ratio 5-1500, output torque from 1gf.cm to 500kgf.cm ( from 0.098 mN.m to 49 N.m; from 0.014 oz.in to 7000 oz.in). Long lifespan and reliable smooth running.

Q: 2. Is it possible for you to develop new motors if we can provide tooling costs?
A: Yes. Please kindly share the detailed requirements such as performance, size, annual quantity, target price, etc. Then we'll make our evaluation and provide you with the proposal.

Q: 3. Can I get some samples?
A: Most of our samples are free for you, some expensive motors we charge double the price as the bulk order price.
We only deal with bulk orders, many consumer customers only want 1 or 2 for replacement, so we set this rule to select target customers. :)
Don't worry, the samples charge will be refunded as payment of motors later when you place a mass production order.

Q: 4. When you will reply to me?
A: Our customer service staff will reply to you within 12 hours.

Q: 5. Can you send me a price list?
A: For all of our small dc motors and mini gear motors, they are customized based on different requirements like lifetime, noise, voltage, shaft, etc. The price also varies according to different quantities. So it's difficult for us to provide a price list. If you can share your detailed requirements and quantity, then we can send you the specified dc electric motor pricing.

Q: 6. How to order?
A: Send us an inquiry → Receive our quotation → Negotiate details → Confirm the sample → Sign contract/deposit → Mass production → Cargo ready → Balance/Delivery → Further cooperation.

Q:7. What's the lead time for regular orders?
A: For regular dc motor and gear motor orders, the standard lead time is about 25-40 days and the lead time varies based on a different model, period, and quantity.

Q: 8. What are the payment terms?
A: We accept payment by T/T, PayPal. Initial payment 30-50% in advance, shipping against balance payment. We can also accept other payment terms after we have established a good long-term cooperative relationship.

Q: 9. Which shipping way is available?
A: DHL, UPS, FedEx, TNT, EMS, China Post, and Sea shipping are available, we have favorable prices for those shipping methods since we ship a lot. Contact us for details when you want to compare the shipping cost paid by your side and by our side.

Q: 10. My package has missing products. What can I do?
A: Please contact our support team and we will confirm your order with the package contents and check what should do. We apologize for any inconvenience.